Among all Europe countries you should visit first these most beautiful countries in Europe.
Packed full of incredible historical sites, important cultural landmarks, and beautiful scenery.
Europe is a treat to explore with each of 44 countries home to different people, languages, and cultures.
However, it can be difficult to know where to start other than its world-class cities.
Europe has innumerable historical cities and delightful villages that you can explore.
Add in picture-perfect beaches and scenic mountains as well as exciting magical fairy tale castles and ancient ruins.
It's easy to see why Europe attracts more than half of the tourists in the world.
1. Netherlands
Often associated with tulips, windmills, and wooden shoes the "Netherland" is more widely known for its free-spirited capital Amsterdam located in northwestern Europe.
The "Netherlands" is a relatively small country featuring densely populated cities and picturesque villages, crisscrossed by canals and bridges.
While Amsterdam with its art-filled museums, a canal lined cobbled streets, and pounding nightlife is the most population destination.
There is much more to the "Netherlands" than just its capital city.
2. Poland
"Poland" has survived centuries of conflict to emerge as a proud independent country ready to assume her new role in modern history.
Visitors to "Poland" are discovering that locals have long known that "Poland" is a rich country with a fine culture, natural landscapes, and exceptional historical sites.
Exhibiting a wide array of architectural styles the cities are filled with towering Church spires and epic castles with beautiful historic centers also on the show having suffered terribly in world war 2.
They also host lots of moving memorials and museums for the victims of the holocaust.
Also read Most Beautiful Countries In The World
3. Portugal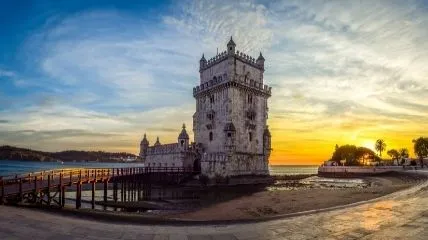 Hugging the west coast of the Iberian peninsula.
"Portugal" is blessed with a long scenic coastline dotted with beautiful beaches and sleepy fishing villages.
Add in its warm and welcoming weather, and it's no wonder at all that this is a very popular holiday destination.
Full of amazing churches and castles, its historic towns and age-old cities of Lisbon Porto and Sintra are very-pretty and pleasant to visit while many people stick to the coastal region.
Its mountainous interior is also well worth exploring for its gorgeous scenery and hilltop towns.
4. Romania
Lying in the southeast of Europe.
"Romania" is in many ways dominated and defined by the Carpathian mountains and Danube river that runs through it, as so much of it consists of pristine and untouched forests and rolling hills.
The country really is a nature's lovers dream.
While its endless nature reserves deserve exploring.
Its medieval towns fairytale castles and age-old monasteries attract just as many visitors.
History and heritage are all around you as you wander around Sigi Zawara and Brazov's charming streets and market squares.
While Bucharest boasts the best restaurants, bars and nightlife.
5. Montenegro
Established as an independent country in 2006 the small Balkan nation of "Montenegro" is quickly become a popular travel destination.
Gorgeous beaches, verdant mountains, and postcard-perfect historic towns draw an increasing number of visitors every year.
The mild Mediterranean climate offers opportunities for active activities ranging from mountain biking to whitewater rafting in the mix toss.
It is no wonder that tourism is now the driving force behind Montenegro's growing economy.
Also Read Most Beautiful Countries In The World.
6. Iceland
From awe-inspiring glaciers to geothermal springs to active volcanoes.
"Iceland" is a place where nature always takes center stage.
Even in the nation's lively capital Reykjavik views of the city and nearby mountains the show isolated from the rest of Europe for centuries.
This land of fire and ice has a unique cultural heritage of literature and music that you'll find captivating too.
Illuminated by the northern lights in winter and the midnight sun in the summer, "Iceland" shines in any season.
Offering you a travel experience unlike anywhere else on the planet.
7. Croatia
"Croatia" has experienced a tourist boom in recent years as visitors from all over the world flock to its shores and it is very easy to see why.
Nestled along the shimmering Adriatic, its rugged coastline is breathtaking to behold with thousands of idyllic islands hidden amidst its stunning scenery.
You can explore incredible seaside towns and cities such as the Dubrovnik split.
Far magical to gaze upon the sparkling Plitvice lakes count amongst the country's most popular attractions and are the highlight of many people's visit.
8. Germany
Home to fairy tale castles, medieval old towns, and lots of romantic landscapes, "Germany" is a magical place to visit.
The largest and most populous nation in central Europe.
It has a surprising number of different sides to it.
While the north boasts the beautiful Baltic sea in the Hanseatic league city of Hamburg.
The affluent south has the black forest, Munich, and Oktoberfest.
In the west, the Rustic Rhine river valley awaits.
While in the east Berlin's great museums and famous nightlife need to be experienced.
9. Russia
It is the largest country in the world.
"Russia" its many riches that could take a lifetime to explore.
Stretching from the Baltic Sea in the west to the pacific ocean in the east everything about it is epic in size and scale.
Replete with enormous fortresses art-filled museums, and beautiful churches visiting the world-class cities of Moscow and St. Petersburg is a must.
Home to Kremlin and Hermitage they also boast some of the best ballets and operas in Europe.
10. United Kingdom
Composed of England, Wales, Scotland, and Northern Ireland.
The "United Kingdom" has long been a favorite European tourist destination because of its beautiful countryside top-notch museums, and historic sites.
From medieval castles to stately mansions and awe-inspiring views of the Scottish Highlands.
The U.K. offers a diverse set of interesting attractions whether it's Buckingham Palace, harry potter, or the premier league.
It all depends on your interest and where you want to begin.
The heart of the UK is its capital London, one of the largest metropolises in Europe and a mosaic of languages ​​and religions from diverse cultures.
11. Austria
Set in central Europe the landlocked country of "Austria" is defined by the majestic Alps with the resting views where ever you go tucked away among its alpine valley.
Along glimmering lake shores, you can find charming villages and towns.
Awash with incredible historical sites grand buildings and a lively cultural scene.
The nation capital Vienna is one of Europe's most elegant cities.
While many people head to "Austria" in winter to go skiing it is just as worthwhile visiting in summer with lots of excellent hiking to be had with marvelous scenery.
12. France
A sophisticated and culturally rich country renowned for its cuisine.
"France" is one of the most popular places to visit in the world.
Its fantastic landscapes include such stunning sites as the Loire Valley, the French Riviera, and the awe-inspiring apls.
Tucked away among its picturesque countryside, you can find everything from Disneyland and Versailles to quaint villages and verdant wine lands.
The undoubted star of the show in Paris, which boasts world-famous landmarks such as the Eiffel Tower and the Louvre.
France's capital is an artistic and architectural gem that for many is without equal.
13. Switzerland
Although it is famous for its magical mountains, including the mighty Matterhorn landlocked "Switzerland", that is much more.
One of the most culturally and linguistically diverse countries in Europe.
It actually has four national languages consequently exploring its different regions really is a treat.
Places such as Burn, Geneva, and Zurich all proudly showcase their unique history and heritage with so much gorgeous scenery.
"Switzerland" is a great place to head if you want to go hiking, skiing mountaineering, or swimming.
14. Spain
From the Pyrenees to the Sierra Nevada, the Bay of Biscay to the Mediterranean.
Spain is fully blessed when it comes to gorgeous scenery.
The two main cities of Barcelona and Madrid are full of incredible sites such as La Sagrada Familia and the
Prado museum, It is well worth venturing further afield.
Sevilla and Granada are for instance sport some exquisite Moorish architecture.
While Roman ruins dot the peninsula with warm and welcoming weather.
Spain certainly is a fantastic holiday destination.
15. Norway
Famed for the fabulous fjords that scar its long and jagged coastline.
"Norway" is widely considered to be one of the most beautiful countries in Europe.
Throw in the spectacular northern lights, its many majestic mountains, and icy glaciers and it's easy to see why.
Its myriad of gorgeous landscapes lends themselves perfectly to all kinds of adventure sports with hiking, mountain biking, and white water rafting being particular popular summertime activities.
In winter its snowy panoramas are perfect for dog sledding, skiing, and snowboarding conditions.
It is one of best country among most beautiful countries in Europe.
16. Italy
Home to not only Rome, Florence, and Venice but an impressive array of equally alluring smaller towns and cities.
"Italy" really is nowhere else on earth.
Its many riches and treasures replete with ancient historical sites and cultural sites are truly lit up before your eyes.
Add in the fabulous weather and a divine culinary scene.
It can be hard to ever tear yourself just as special and spectacular as Italy's marvelous scenery with the alps and the Italian lake district counting among its must-see sites.
Iceland in top country to travel among most beautiful countries in Europe.
17. Greece
Known for ancient ruins, whitewashed villages, sunny beaches, and friendly atmosphere.
It is no wonder that "Greece" ranks among Europe's top travel destinations.
"Greece" is made up of mountainous mainland and hundreds of islands.
Each island offers its own share of stunning landscapes and cultural delights.
Many tourists like to begin trips on the mainland which is home to the capital city Athens.
One of the oldest cities in the world, Athens is known worldwide for its classic ruins and temples such as the iconic Parthenon complex.
Conclusion
So these are the most beautiful countries in Europe for your holidays as well as for enjoyment.
These are the most visited countries in Europe every year.
If you are also one of them then share your experience with us in the comments below.
Do you belong to one of these countries? Then tell something new about your country.
If you liked this article then do share it once with your family, friends. and your loved ones.
Also Read – 15+ Best Food In the World.